Consulting: Culture Transformation:: Leadership
Era Management - Maximizing Your Organizational Potential Through Leadership
An era is a period of time when the conditions under which the business operates remain the same. Eras change when these conditions change. The operating conditions are both external and internal. Examples of external conditions include government regulations affecting the business and geopolitical events (wars, dollar strengths, changes in leadership and/or political direction) in this or any other country. It is particularly important to consider changes internal to the organization. Here again, changes in leadership and strategic direction can have dramatic effects on internal conditions. The organization climate of the company is a strong indicator of these internal conditions.
A strategy period is usually five to seven years. Eras are shorter periods of time, usually 18 to 36 months. They are also linear, laying beside one another to make up a strategy period. In our experience, internal and/or external conditions can change rapidly in significant ways.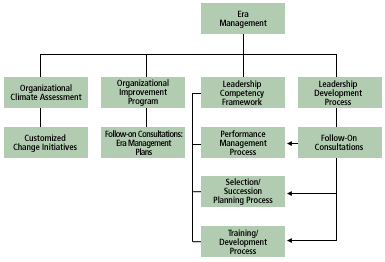 In implementing Era Management, IQPM works with organizations to:
Establish the time horizon of the era and its dominant themes;
Create an Era Management plan that defines the era's priorities (A-Items), the objectives underlying the priorities, required activities and events, and measures to track progress;
Define leadership styles, then assess strengths and shortcomings;
Help create conditions for success based on the necessary leadership style(s);
Initiate the plan, reviewing, testing, and fine-tuning it on a regular basis;
Continue to assess, develop, and modify the plan throughout the era.
As the Era Management process is positioned in the organization, we expand on its impact by introducing supporting programs and approaches that reinforce and integrate the strategies. The figure below represents the integrative framework that can evolve from a successful Era ManagementSM intervention.

Request Info

Capabilities, Experience & Value